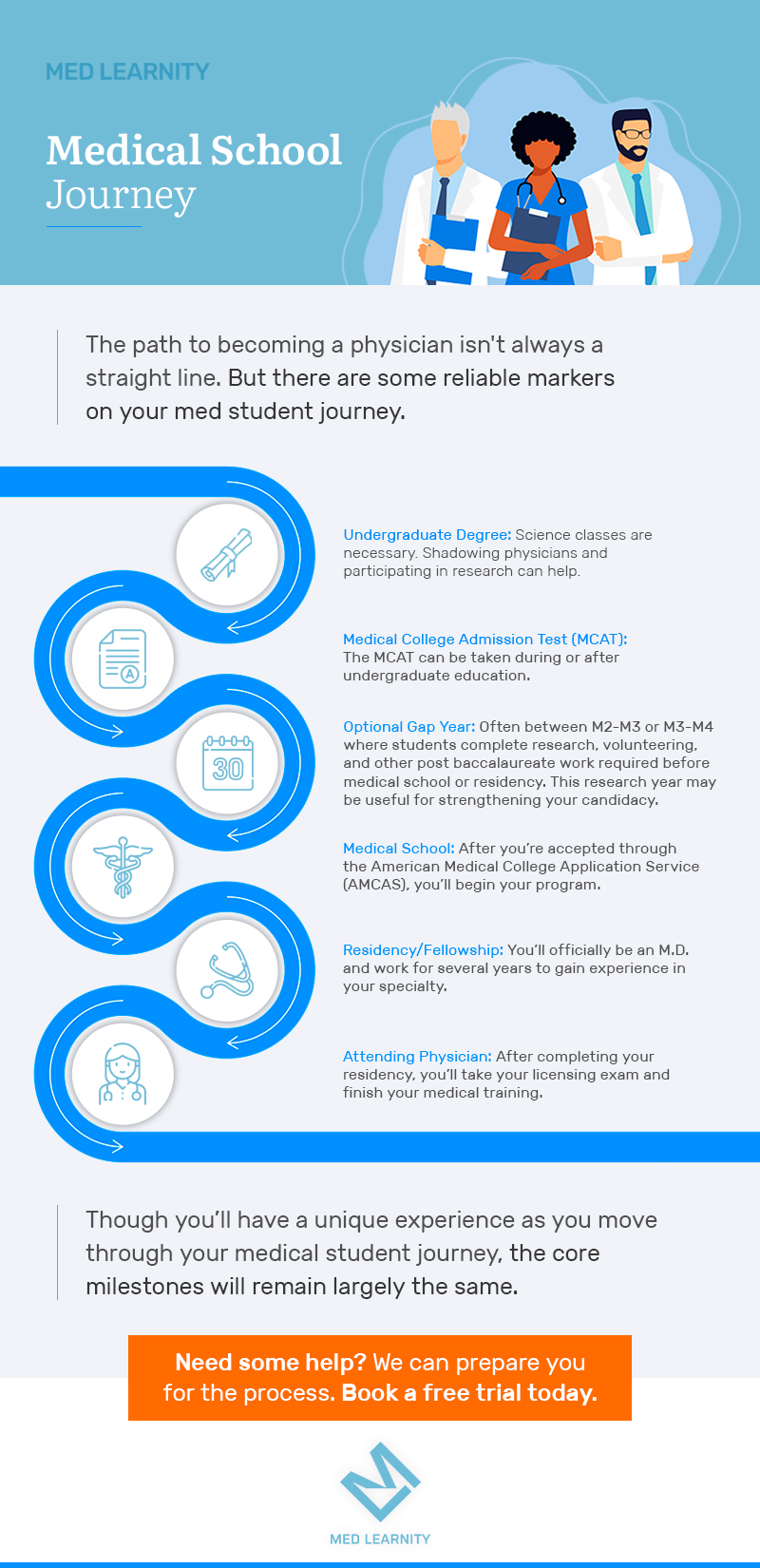 There is no doubt that the medical journey is a challenging one. There are so many exams you need to pass, and don't forget about all the studying you have to do for exam preparation. It simply takes a lot of time, but it's worth the effort.
If you have decided to become a physician in the future, it might help to know what the journey looks like. Here is a guide to help you understand the journey a medical student has to take before becoming a doctor.
Pre-Med Definitions and Keywords
The medical student journey begins with pre-med, where you'll encounter terms like these:
BS/MD
The first step in the route to medical school is getting a bachelor's degree. There are multiple ways to get started after completing high school. One option is to get into a BS/MD program. In this program, students get into both a Bachelor of Science and medical doctor degree. This combination program takes about eight years to complete and is a great way to get started for students who are ready to become doctors.
Keep in mind that this program is highly competitive, with only a handful of students getting into most schools each year. Applicants typically have a GPA of 4.0 or higher and SAT scores of at least 1550, so your application should really stand out to the admissions staff.
Pre-Med Undergrad
Another option is the pre-med program. This route is by far the most common for those who pursue a career in the medical field. It allows students to pick a unique major, such as art or engineering, for a more well-rounded educational experience. In this program, students go to any school they want and major in any subject they want. But they do take a few required classes to be able to apply to med school.
This program could be a great option for some students who are not entirely committed to becoming a doctor. Students can take a few classes they need to get a good understanding of what it takes to become a doctor.
Post-Baccalaureate (Post-BACC)
A post-BACC program is an excellent option for those who decide they want to become a doctor after they've finished school. A student in this program already has a Bachelor of Science degree, and they plan to get their second BA/BS degree. They may still need to finish mandatory courses to apply to a med school. A post-baccalaureate program allows them to meet those requirements.
MCAT Exam
Usually, after getting the undergraduate degree or any of the previously mentioned programs, students have to take the MCAT exam. All students have to take the Medical College Admission Test before applying to a med school. This exam is standardized and tests the ability to apply the students' knowledge and their potential.
CASPer Test
Another assessment a student might face is the CASPer test, which stands for the Computer-Based Assessment for Sampling Personal Characteristics. This test is part of the admissions process that is used to determine the student's professionalism, ethics, communication and empathy. In this test, students can expect to be asked, "What would you do and why?" questions.
Now you are ready to start the med school application process!
Medical School Application Definitions
When applying to a med school, students might come across a few unfamiliar terms used during the application process. Here are some of them:
AAMC
The first one is AAMC. This stands for Association of American Medical Colleges. The AAMC is responsible for administrating the MCAT exam and is focused on healthcare through medical education.
AACOMAS and AMCAS
You may or may not have heard about the AACOMAS and AMCAS application process. AACOMAS, or American Association of Colleges of Osteopathic Medicine, is the application process for students applying for Doctor of Osteopathic Medicine, also called DO.
AMCAS, or American Medical College Application Service, is part of AAMC's medical school application processing service. This is used by students applying for an MD in medical school.
TMDSAS
Students interested in applying to medical, dental and veterinary schools can use TMDSAS or Texas Medical & Dental School Application Services. Note that TMDSAS is specific to those interested in public schools in Texas.
ERAS
The ERAS or Electronic Residency Application Service lets students easily apply to residency programs. Dean's offices can also use ERAS to upload transcripts and evaluations, and anyone writing a letter of recommendation can upload it on the program, as well. This service helps centralize your application forms and information.
Medical School Definition and Keywords
As you continue your school journey to become a doctor, you'll encounter more keywords to know. Here are some of the terms a medical school student will encounter on their timeline to becoming a doctor.
M1, M2, M3 and M4
M1, M2, M3 and M4 refer to the medical student timeline and represent what year you are in. For example, M1 is a first-year medical student.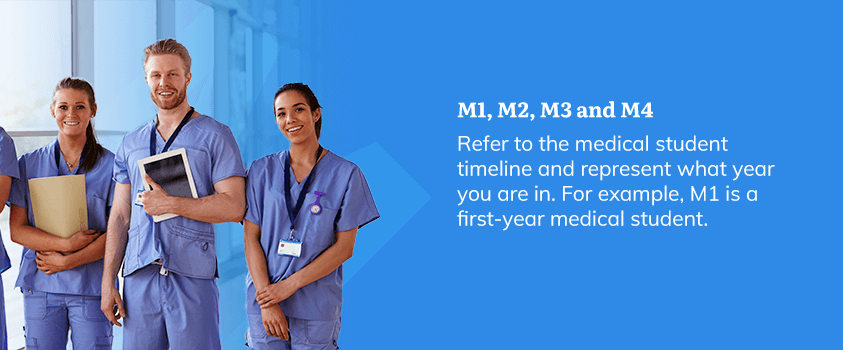 USMLE
A medical student might also come across the USMLE, known as the United States Medical Licensing Examinations, or Medical License Exam. In this exam, a student is assessed on their ability to apply concepts, knowledge and principles as well as their ability to demonstrate their patient-centered skills. USMLE has multiple steps to the exam:
After these tests, you are done with med school!
Post Medical School Definitions and Keywords
After medical school, there are more programs that med students need to take to become a doctor.
Internships
The first program after med school graduation is internships. Med school graduate students need to do internships for their first year of training, and it is a requirement to get a general license in medicine. This stage of the medical school journey is referred to as PGY1 internship or Postgraduate Year 1.
Residency
Residency is a post-medical school program for med school graduates. A residency program can be anywhere from two to seven years of training and education. This differs based on the types of residency.
Usually, this stage of the medical school journey is referred to as PGY2, or Postgraduate Year 2, after the first year of internship. Residency years span PGY2 to PGY3-PGY5, depending on the length of residency. Some programs, like internal medicine (IM), family medicine (FM) and more, are three years, while other programs like radiology and surgery are five years.
Fellowship
After completing residency training, physicians have the option to participate in a fellowship. When you decide to do a fellowship, you are already a full-credential physician that decides to get more training in a specialty. If you do not want to specialize in a subspecialty program, this step is completely optional for you. Fellowship is becoming more popular as medicine becomes increasingly subspecialized.
Board Certification Tests
Physicians that are trained further in their specialty have the option to take board certification tests. Based on the specialty, there are different requirements for this test. Board certification tests are taken after residency and fellowship.
Attending
An attending physician is someone who has already finished their training and is practicing independently. An attending physician is typically used to differentiate a junior physician from a senior-level physician.
Get Tutoring for Your Exams With Medlearnity
From this medical student journey, you probably get the idea that there will be many exams you will be taking if you are interested in becoming a doctor. If you're looking to get additional help with your USMLE, MCAT or Residency Board Exams test prep, reach out to us at Medlearnity and get a personalized tutoring service.
We have expert tutors who have scored high in these exams to answer any of your questions and guide you through your studies. We specialize in USMLE, COMLEX, MCAT, Shelf/NBME, Residency Board Exams and Admission Consulting. Sign up for our free trial today!