Low Score on ABSITE: How to Get up and Excel
If you didn't score as highly as you hoped on the ABSITE, you're probably discouraged and feeling a little bit down. First of all, don't be too hard on yourself! You can still succeed with flying colors even after failing the ABSITE. With a comprehensive study plan in place, you can prepare yourself to earn a passing score on next year's exam.
Learn what to do if you got a low score on the ABSITE test, and check out our tips to help you succeed on your next attempt.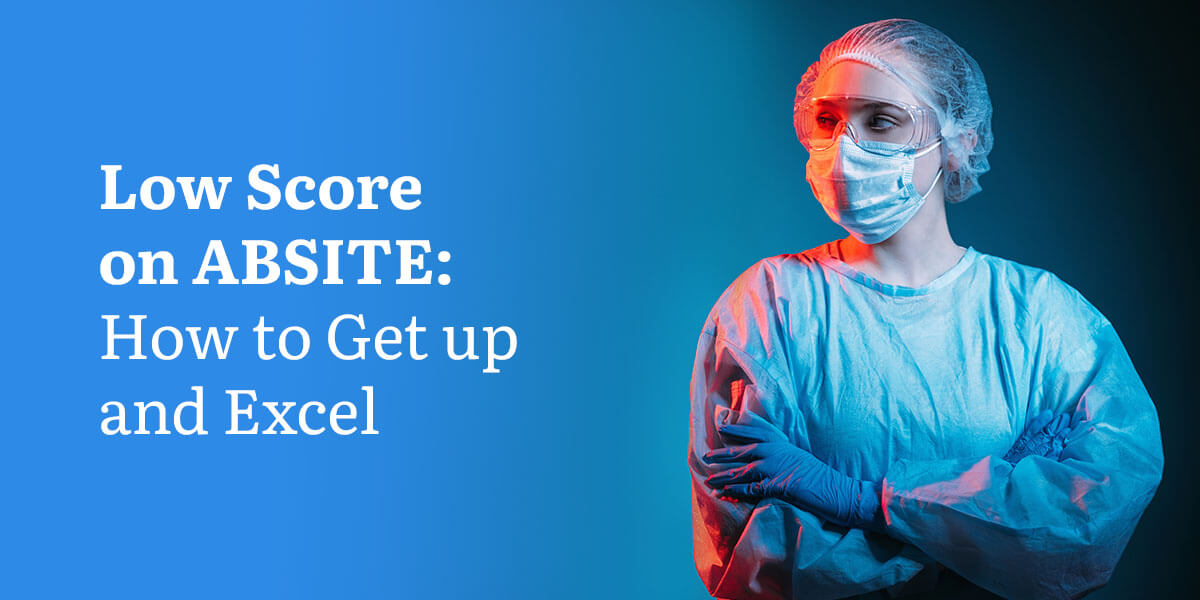 What Is a Good ABSITE Score?
ABSITE scores are in the form of a percentile rank. This measure indicates how well you performed compared to other students in the same year of medical school. Your percentile rank shows that you scored as well as or better than that percentage of similar students. For example, if you receive an ABSITE score in the 75th percentile, you have scored greater than or equal to 75% of the reference population.
A good ABSITE score is above the 50th percentile. Scoring in this range will give you a competitive edge when applying to fellowship programs.
A score below the 50th percentile may be a cause for concern, while coming in below the 30th percentile warrants additional test preparation.
How Important Are ABSITE Scores?
The ABSITE is a multiple-choice test designed to assess the progress of general surgery residents in their knowledge of applied science and management of clinical problems related to surgery.
Your ABSITE score is an essential component when applying for a surgical fellowship. A low score may indicate a higher chance of failing written boards, and some residency programs will have poorly performing students remediate clinical training.
A good ABSITE score, letters of recommendation and a respected residency program are crucial for getting into a fellowship program.
Immediate Next Steps After a Failed ABSITE
After an ABSITE failure, don't panic. Instead, view this setback as learning opportunity. While it's OK to feel upset, understand that you'll have chances to improve your score in the future. Talk with a supportive friend or loved one if you need extra motivation.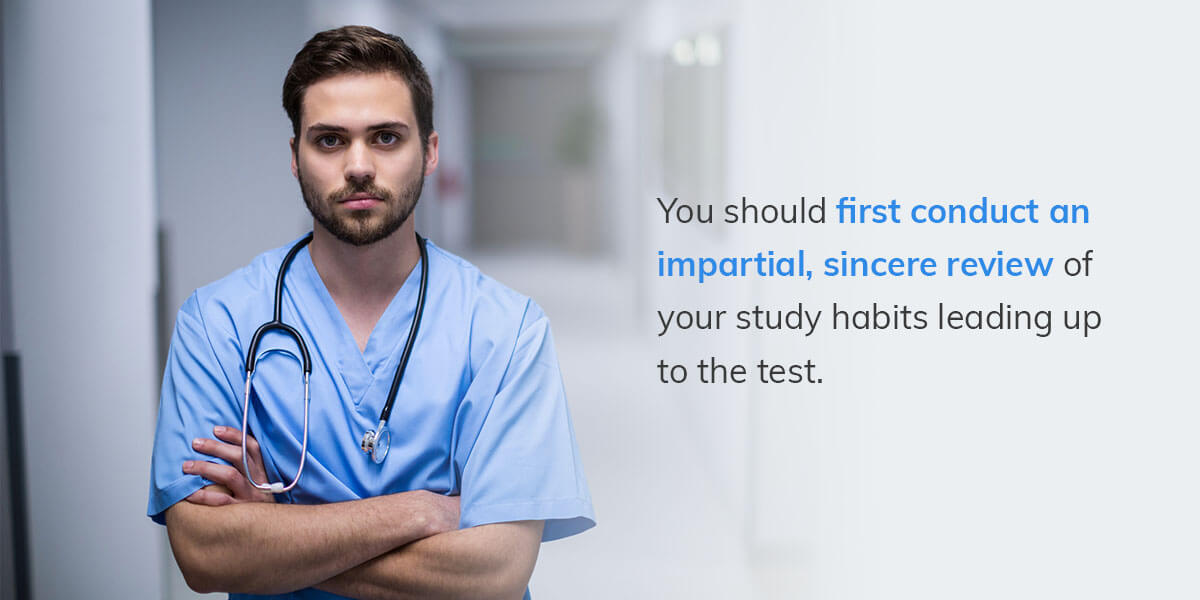 You should first conduct an impartial, sincere review of your study habits leading up to the test. Did you start studying a few months ahead, giving yourself plenty of time to read a review text and answer a question bank? If so, you may need to reevaluate the study resources you used. You might also look at your clinical schedule for next year and try to avoid a challenging or busy rotation in the month before you take the ABSITE.
Alternatively, you may have started studying only a month before your exam. Considering the amount of information the ABSITE covers, you were probably doing more cramming than learning. If this scenario sounds like you, you know how to plan accordingly for your ABSITE retake.
Can I Retake the ABSITE?
General surgery residents have an annual opportunity to take the ABSITE to gauge their progress. If you are in your first year of residency, you have two to four more years to take the exam, depending on your program.
Can I Retake the ABSITE Even if I Pass?
You can take the ABSITE each year it's available to you, even if you've previously passed it.
Retesting despite a passing grade has benefits. For instance, sections of the previous test likely challenged you. You can use the year between test dates to better comprehend those areas and master them on your upcoming ABSITE.
A passing score on the ABSITE allows you to enter retakes with less anxiety and greater confidence. If you want to challenge yourself, work on decreasing the time it takes you to complete the exam.
The reality of medical school is that you will take many tests. Retaking exams can help you get comfortable with them and sharpen your test-taking skills to prepare you for your board certification exam.
When Should I Schedule My ABSITE Retake?
You do not have to schedule your retakes. Your general surgery residency program will administer the ABSITE on a schedule each year in either late January or early February. Your program director will notify you of the testing date at the start of the academic year, giving you ample time to prepare.
6 Tips to Help You Pass the ABSITE
Incorporate these tips into your ABSITE study plan.
Build a structured study system: The ABSITE covers 30 to 40 topics. Instead of trying to study them randomly or all at once, choose a few to focus on each week. It's also helpful to combine similar subject areas, such as thyroid and parathyroid or rectal and esophageal cancer.
Start studying early: It's never too early to start preparing for the ABSITE. The scope of covered material warrants several months of studying. Evaluate your clinical rotation schedule for the months leading up to the exam — if you have a lighter rotation, you may only need a couple of months to study. If you have a busier schedule, you may need to give yourself more study time.
Use an ABSITE review text: Review texts are invaluable study tools. They cover topics on the ABSITE, from basic science to clinical knowledge in general surgery to surgical subspecialties. Studying review texts builds your knowledge and confidence as you prepare for the ABSITE.
Create flashcards: There are many resources available online to create flashcard decks. Studying with flashcards promotes active recall, which is the process of pulling information from your memory rather than merely reading or recognizing it.
Study with a question bank: Question banks contain questions similar to what you will face on the ABSITE, with thorough explanations of the answers. Completing a question bank can help you get familiar with the kinds of questions you will answer on the exam so you can confidently tackle them.
Hire a tutor: A medical tutoring company can take your knowledge and comprehension of general surgery topics to the next level, helping you easily pass the ABSITE.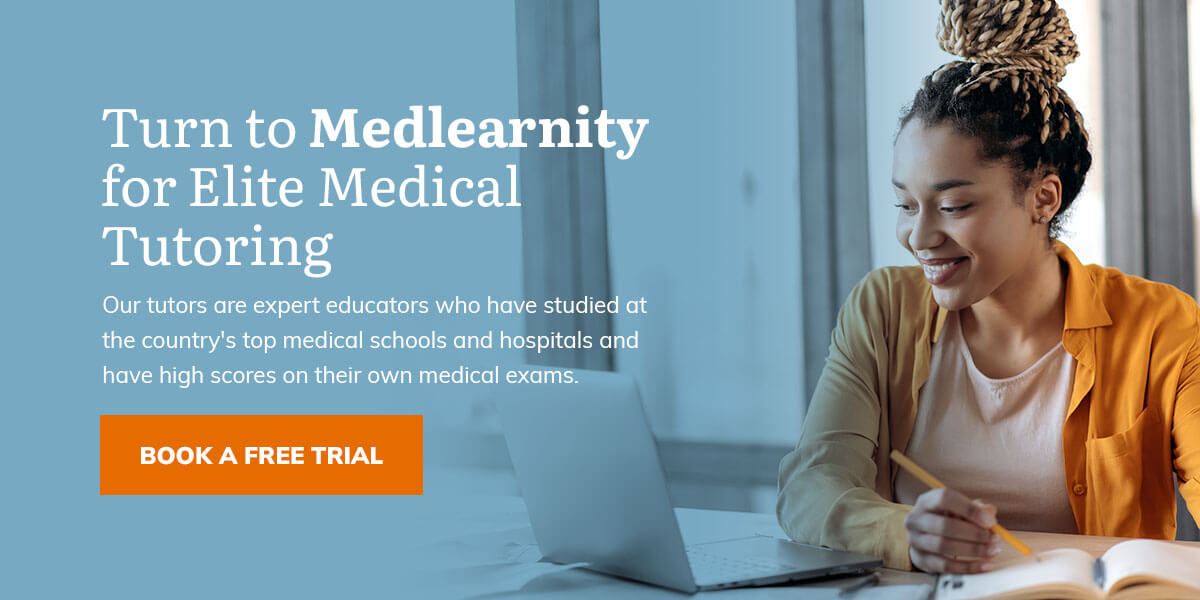 Turn to Medlearnity for Elite Medical Tutoring
At Medlearnity, we prioritize your success as a medical student. Our tutors are expert educators who have studied at the country's top medical schools and hospitals and have high scores on their own medical exams. We take a personalized approach to identifying your unique needs and helping you strengthen your knowledge base and test-taking strategies. Book a free trial today to see how Medlearnity can help you pass your next exam!