After receiving your Step 2 clinical knowledge (CK) scores, you might find out you didn't meet the passing requirements. From here, you need to know the next best steps and determine if you can take a second attempt.
Failing Step 2: Your Next Steps
Failing your United States Medical Licensing Examination (USMLE) Step 2 test can feel overwhelming. Understanding what you can do after a Step 2 failure can prepare you for the future and support you during these times.
1. Reach out to Loved Ones
After a Step 2 CK failure, you might feel tempted to self-isolate or keep your score to yourself. However, your support system can give you the essential help and motivation to overcome this obstacle and be ready to try again. So much of preparing for your retake will be mental and emotional work in addition to more studying. Your loved ones can boost your self-esteem and handle other tasks for you while you develop a plan.
2. Contact Your Administration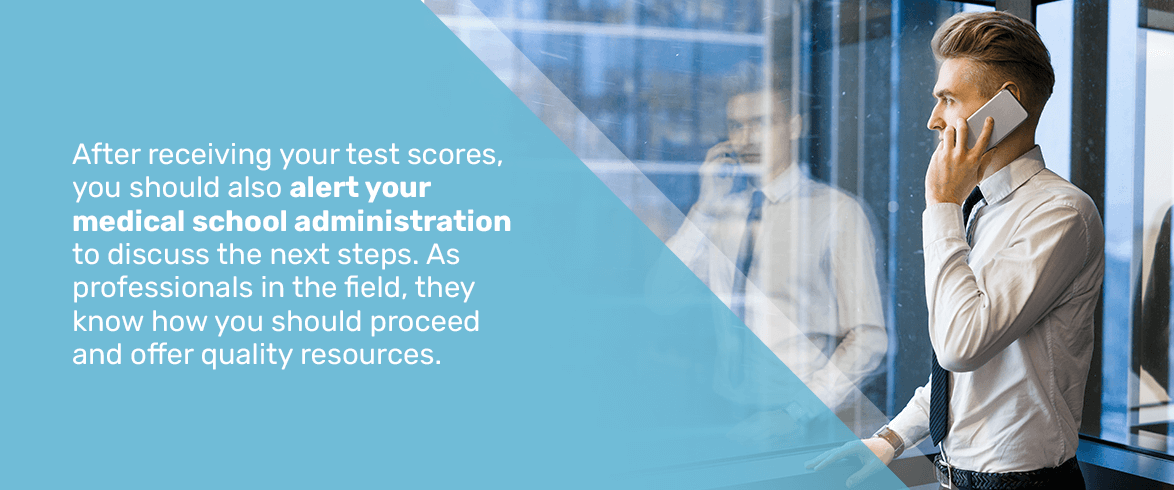 After receiving your test scores, you should also alert your medical school administration to discuss the next steps. As professionals in the field, they know how you should proceed and offer quality resources. If you have an academic advisor, they can be an excellent help. Going to someone you have a personal relationship with can also benefit you because they already know your professional and academic goals.
While failing your Step 2 test will likely not affect your graduation, it will delay when you can approach Step 3. Because you need a completed degree to take USMLE Step 3, you will have to reevaluate this part of your career and academic timelines.
3. Reassess Your Residency Timeline and Approach
Your score will likely impact your residency applications, causing you to push them back. After talking with your school, you can determine the best timeline for your Step 2 retake, considering factors like increased study time, practice tests and other responsibilities like work and family obligations.
Remember to treat yourself with grace and care following your results. Everyone's journey through medical school is unique. Further, program directors use several factors to determine residency acceptance, from your grades and test scores to your clerkship performance and letters of recommendation. Showing you are a resilient candidate who can face adversity and challenges is important to many medical fields, helping you grow after a Step 2 failure.
Average Scores for Step 2
What is a good Step 2 score? When approaching a retake, you should know what to aim for. In 2022, USMLE increased the passing score from 209 to 214. Many students like to aim above passing to get their preferred residency match.
While the passing score is lower, the average national score for the Step 2 exam is around 242. The bottom quarter of the test takers scored around 232, and the top quarter earned around 256. The average score for students matched with their first-choice specialty is just over 246.
Your target score might also depend on the specification. Some medical fields hold residency applicants to higher standards than others. Many of these fields are more competitive, helping residency program directors find the best candidates for their facility. For example, plastic surgery and dermatology were more competitive fields with average Step 2 scores of over 250 for their residency matches. Less competitive fields like family medicine and psychiatry averaged around 230 for their residency matches.
When studying for Step 2, understanding what your desired field demands can give you a better idea of how rigorously you must prepare and review for the retake.
How Does a Step 2 Failure Affect Residency Applications?
Failing Step 2 does impact your residency applications. At the least, you will have to delay your applications until you get a passing score. A failing score can also determine your chances of programs accepting you.
Your Step 2 scores have become more critical in recent years after Step 1 became a pass/fail score. Step 2 scores show residency programs how you compare to other medical students across the program, helping them assess if you are a good fit for their facilities. A passing Step 2 score is often necessary for getting into a residency program, but many specify their preferences for applicants.
In some cases, a Step 2 failure will prevent students from getting into the program they want. More competitive programs or specifications will only accept students with a passing score on their transcript. Some lesser competitive fields will have more leniency with applications, accepting students with lower test scores and failures.
After failing Step 2, remember that your journey is not over. Each program and specification has different requirements and standards for residency applicants. You can help your chances of acceptance to your desired programs by building out your application and being more competitive in other ways. You might have more work experience than others or significant relationships with your professors and faculty.
Can You Retake Step 2?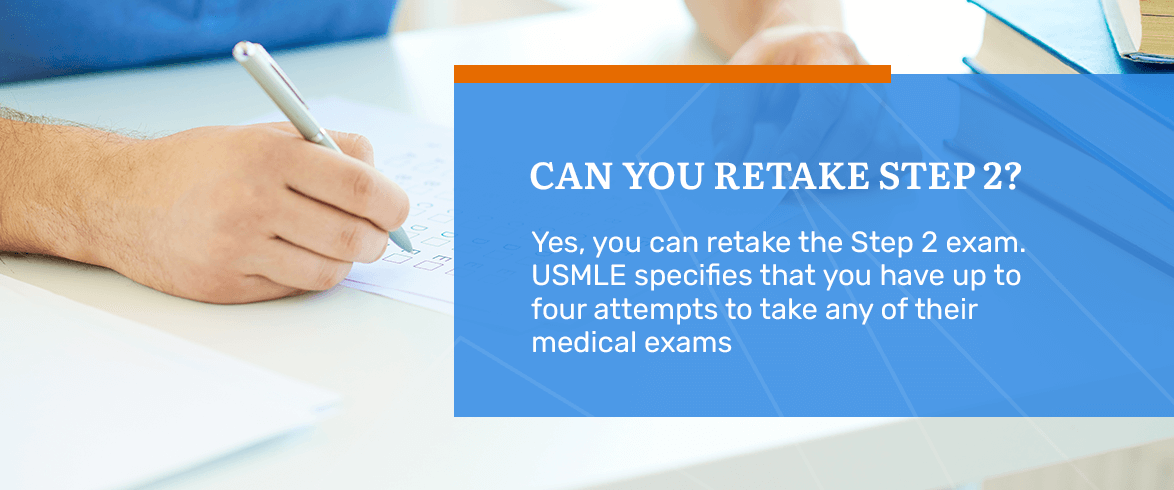 Yes, you can retake the Step 2 exam. USMLE specifies that you have up to four attempts to take any of their medical exams. This provides students with a Step 2 failure some time to study and retake the exam to have a passing score they can use to apply for residency programs.
Because you only get four attempts, you should study appropriately for each one. Incomplete attempts will still count as a retake to USMLE.
Can You Retake Step 2 Even if You Pass?
Under most circumstances, you cannot retake the exam if you pass with a low Step 2 score. When preparing for this exam, you must use your available resources to aim for your desired score. Practice tests and exams can help you judge your score before taking Step 2, helping you understand if you know enough to get the score you want.
USMLE does allow individuals to retake certain steps to meet licensure standards. In these instances, you will likely haven't taken Step 3 yet and need specific test scores to meet a physician licensing authority's requirements. Retaking tests at this stage can help you get the scores you need to complete your medical education.
When Should I Schedule My Step 2 Retake?
We recommend giving yourself plenty of time between testing attempts to relearn forgotten information, identify weak areas, thoroughly study and see improvements. Taking the right steps after a failure can optimize your limited retake attempts and show residency programs you are resilient and adaptable. Because retake attempts might cause you to miss residency application deadlines, you can use the available time to focus on growing and improving.
USMLE does have limits for retaking Step 2 and other exams. You can take up to three retakes within 12 months, meaning your fourth attempt must be at least a year after your first one. Your fourth retake should also be six months after the one before it. However, you can take the first three within any time frame that feels comfortable, allowing you to create a comprehensive and effective study schedule that meets your needs.
5 Tips for Passing the Step 2
When approaching your retaking, the strategies and techniques you implement can make all the difference in your scores.
1. Take Practice Tests
When preparing for the Step 2 exam, you can gauge your progress and understand the testing format with practice tests. Many organizations offer practice exams similar in form and material to the real USMLE Step 2. You can use these tests to get used to the test-taking format with the various time blocks and question formats, so you can focus on selecting the correct answer when it's time to take the test.
Practice tests are also great at identifying what concepts you need to review. Because you can check your practice exam results and even go through individual questions, you can pinpoint where you are struggling, so you can better your chances for your next exam attempt.
Medical students approaching their first attempt or a retake can use several practice Step 2 exams, including: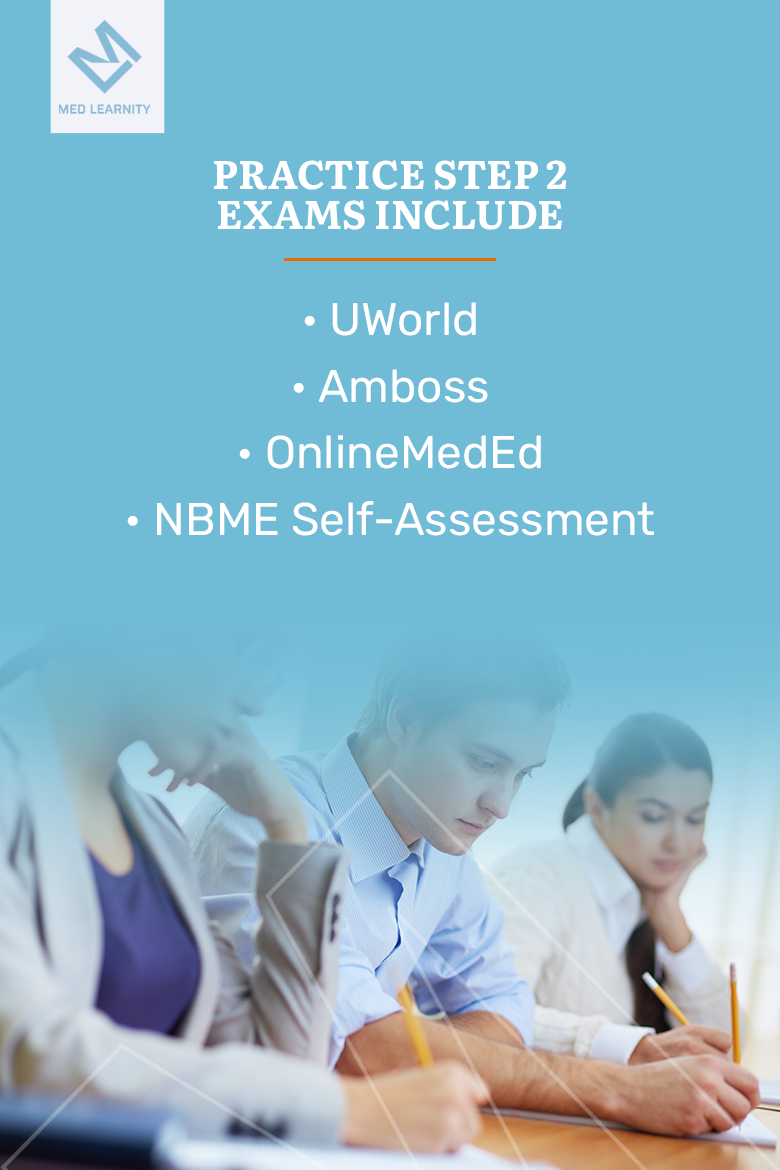 UWorld: UWorld allows you to randomize questions and set timers, so the test feels like the actual exam, making it a valuable resource for medical students preparing for Step 2. You can also turn off the randomized feature to help you identify what concepts you need to study.
Amboss: Like UWorld, Amboss is another site where students can take accurate practice tests. This site is unique because it provides comprehensive explanations for answers that you can access anytime, helping boost learning by ensuring students can understand and fix their mistakes.
OnlineMedEd: OnlineMedEd has more generalized questions and focuses than the other two practice sites, but it is helpful when you want to diversify your study resources. Having multiple sources to pull practice from can ensure you haven't become too used to one format or site, making you more adaptable and prepared for the actual thing.
NBME Self-Assessment: While practice tests are great for getting the hang of questions and test format, they don't always provide you with a number score based on your performance. The NBME Self-Assessment is a practice test that gives students scores with their results, so you can get a baseline for your performance. Using this tool can help you judge when you are ready to retake Step 2.
After taking practice tests, it is helpful to reflect on your mistakes. Reflection will make your study efforts more effective by pointing out where to direct your time.
2. Assess Your Study Methods
As you approach reviewing for your retakes after getting a failure, assess your study methods and resources. A failing score indicates that something went wrong during the study process, from your location to your materials. Without fixing anything, you risk your study techniques failing again, leaving you with one less retake available.
While it might be hard, think back to the Step 2 exam and try to think about what gave you problems. Some people feel unprepared for the exam's format, which taking practice tests can help with. Alternatively, some students might have studied less on particular topics, causing them to miss those questions and score lower. Reflection can identify where you can improve your preparation methods for a stronger study regime.
3. Optimize Your Clerkship
The Step 2 exam focuses on knowledge application. While the format is multiple choice, it asks students to use question information to determine diagnosis, treatment options, next steps or preventive measures. Studying can help students gain the knowledge they need to make these judgments, but clerkship and work experience let them practice their skills.
Because many students taking Step 2 are completing their clerkships, you can use your experience to help prepare you for the exam. Studying before work can create more opportunities for you to apply your knowledge and strengthen your abilities for the test. You can even take notes about your experiences and thoughts during your shifts, so you can review them during study sessions for Step 2.
4. Care for Yourself Mentally, Emotionally and Physically
Preparing for an exam can be hard on students. As you start studying for Step 2, remember to take care of yourself. You should eat, drink, shower, sleep and socialize between study sessions. Meaningful breaks can allow the mind and body to recover and absorb information, leaving you more prepared to return to your books and practice tests later.
5. Find the Right Resources and Help
When you are struggling with studying or learning material, tutors and academic advisors can help you create a quality study routine and implement the skills you need. At Medlearnity, our tutors provide each student with the individualized care and attention they need to help them reach their learning goals. With a focus on medical students, we understand your needs and requirements, allowing us to tailor our services for better results.
Tutors work with students to identify weaknesses and implement strategies that foster improvement. When working with individuals on Step 2 exams, they saw a 20-50 point increase, helping students get closer to their desired outcomes.
Develop a Study Plan for Step 2 With Medlearnity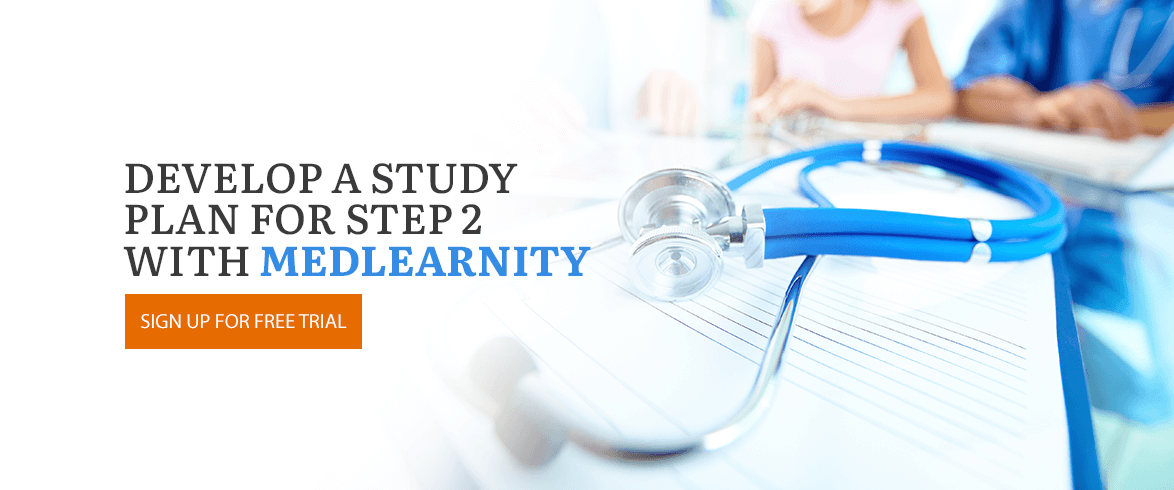 When getting ready to retake Step 2, our tutors are here to help. With a comprehensive understanding of Step 2 CK, we can review materials and provide strategies to help students succeed.
Additionally, our consulting services are available for students who want to discuss their academic and career futures. Residency Admissions and Match Consulting allows students to discover programs that fit their qualifications and goals and prepare quality applications that increase their chances. Students will have someone on their side to guide and support them throughout their selections, applications and matching.
Start your free trial today and learn how Medlearnity tutors can help you prepare for your Step 2 retake.