Internal Medicine Board Exam. You might come across this term all the time in medical school. You probably hear people talk about it; see name plates with the title "Doctor of Internal Medicine" right under an MDs name. You see it all the time but do you actually understand what it means? For all you know, you've been using this term wrong after all this time.
The common understanding is that internal medicine strictly has to do with dealing about diseases, medical conditions, and problems that afflict internal organ systems. While that is true to some point, it's really not why this term has been created. If you go solely by this definition, you can raise a couple of curious questions:
If there is internal medicine, then is there external medicine?
If internal medicine covers diseases and medical conditions that manifests "internally," then is it safe to assume that it can cater to any part of the world's demographic, adults and children included, as long as the symptoms manifest in the inside of the body?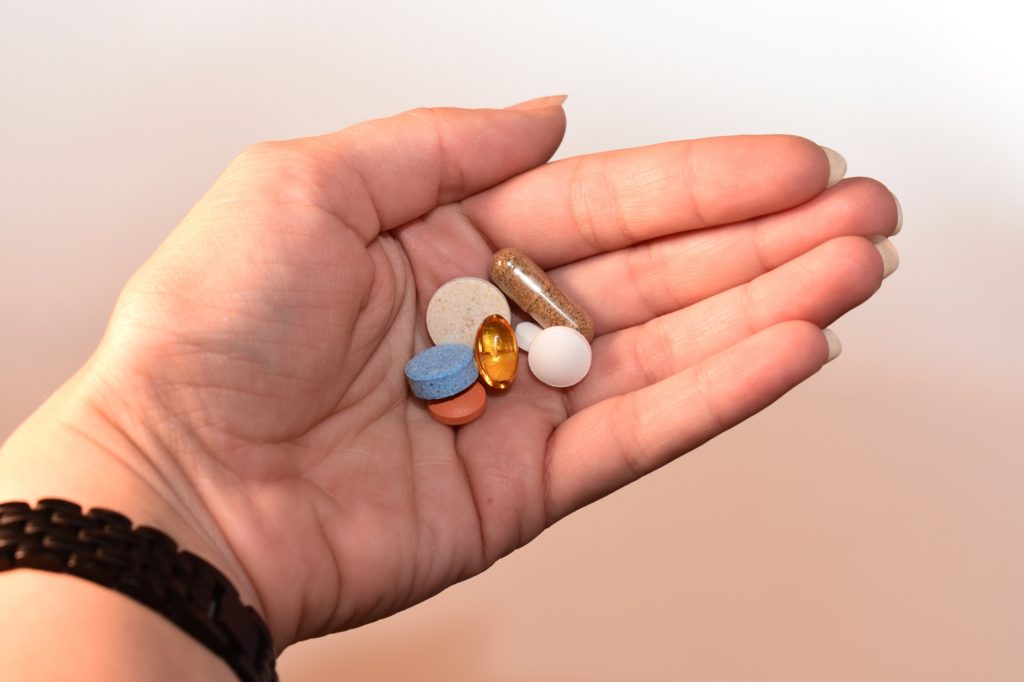 Looking at it from this point of reason, it would be inadequate to define internal medicine as simply the branch of medical science that deals with conditions which manifest internally. Surely, there is more to it than that. And today, we're going to help you get to the bottom of it.
What is internal medicine exactly and how do you become an MD who practices it?
Internal Medicine – Explained
This is probably news to you but the most notable factor in IM is that the demographic it caters to are adults.
Yes, you got that right. It's not just because it deals with internal organ systems and the conditions that afflict them but because they deal with the adult population in general. This also means that an IM is not an authority when it comes to handling cases involving children. That is already a paediatrician's area of expertise. If you want to cover a much broader spectrum in your medical studies, become a "general" doctor as some would say, the best option is to become a family physician that will allow you to cater to young and adult patients to some extent.
Internal Medicine or IM doctors are called "Internists" just as a pediatric doctor is called a "Pediatrician." Internists deals with the prevention, diagnosis, as well as implementing treatment plans and strategies for adult diseases like Hypertension, Diabetes, and Arthritis. Adult diseases generally cover adolescent and post adolescent medical concerns and conditions. It also deals with more diseases that may be acquired as an adult like Sexually Transmitted Diseases.
Anyway, there are a lot of medical professionals that study to become internists. There are those who further narrow their field of focus and choose a specific organ system to specialize in like Cardiology, Endocrinology, Gynecology, etc.
If you are more interested in treating adult patients but don't specifically want to narrow down your practice, then becoming an internist is a possible choice for you as well. But you don't "just become" an internist. Of course, there are certain conditions that must be met.
First and foremost, you have to get certified.    
How To Become An Internist
The American Board of Internal Medicine offers the initial certification exam in internal medicine. Once a physician has completed and passed the ABIM exam, they will be considered a board-certified physician. Learning more about the ABIM exam format and internal medicine board exam questions can help you prepare for your examination.
In order to even step foot in the examination room and be allowed to try for the examinations, you have to meet certain eligibility requirements. Here they are:
First up is residency. You have to work up your eligibility status by practicing your chosen field of medical practice as an intern. You can't just jump right into treating patients by yourself as soon as you graduate from the medical program. After all, you should know by now that this profession requires you to deal with sensitive and overly important matters (you are literally dealing with life and death) which is why it is necessary for you to have the most extensive training possible. The residency training usually lasts up to 36 months.
While you are serving your residency period, you will be observed and evaluated for the 6 core competencies defined by the ABIM for all practicing physicians. These 6 include:
Patient care and procedural skills
Medical knowledge
Practice-based learning and improvement
Interpersonal and communication skills
Professionalism
Systems-based practice
It is only when you have satisfactorily met these 6 core competencies and recognized for it that you can proceed with the board examinations. These core competencies are important as they are the traits and values much needed in the independent practice of Internal Medicine.
Also, you will need a valid medical license issued by the governing authorities of either USA or Canada in order to be eligible for the exam. This means that you have already accomplished pre and post medical studies requirements. There are also procedural requirements such as the demonstration of certain medical procedures. You must be able to perform these procedures safely and competently in order for the ABIM to grant you eligibility status.
Once you're done with all of these pre-examination requirements and you've satisfactorily met everything that the ABIM is asking for, especially where competencies are concerned. The only thing left to do is to schedule and take the Board Examination.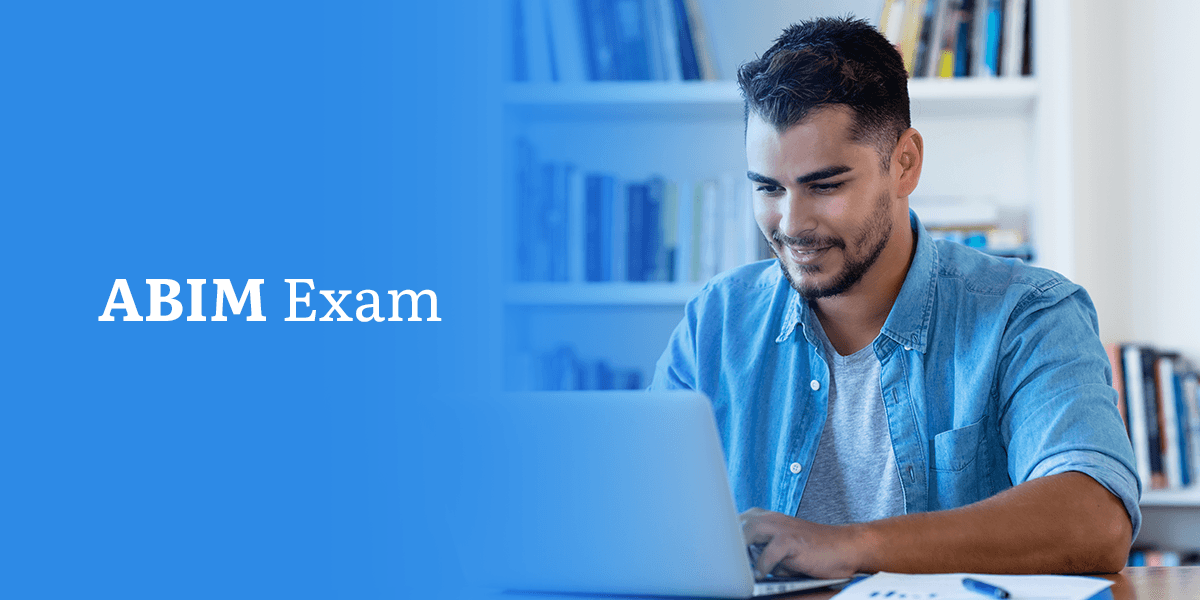 What Is the ABIM Exam?
ABIM administers the initial certification examination in internal medicine. A physician who has completed ABIM-approved training and meets all other requirements for board certification can sit for the ABIM exam. A doctor who has passed the ABIM exam is considered a board-certified internal medicine physician.
While board certification is optional for physicians, most medical facilities, patients and insurers recognize this accreditation as a sign of proper training and medical qualifications. In many cases, becoming board certified can improve your credibility and increase the likelihood of a patient choosing to see you.
How Many Times Can You Take the ABIM Exam?
Applicants can take the ABIM exam three times. After attempting the ABIM internal medicine certification examination three times, applicants must wait one year before registering for another examination. This year is designed for applicants to hone their skills, create an ABIM study plan and follow an internal medicine board exam study schedule.
After one year, applicants can register for the ABIM internal medicine. Again, an applicant cannot take the examination more than three times without waiting an additional year.
When Is the ABIM Internal Medicine Exam Offered?
ABIM exam dates are typically in the fall but may vary from year to year. The registration window generally is around the start of the new year when the examination is held. It is important to note there are early and late registration dates. Even late registration dates close several months ahead of the scheduled exam. 
It is generally recommended to register for your exam as early as possible to ensure you secure your spot. In the months leading up to your exam, you can use ABIM practice questions and study guides to practice.
Registration dates for the ABIM exam include December 1, 2021, through April 15, 2022. Late ABIM exam registration dates include April 16, 2022, through April 28, 2022. Exam dates include August 15, 17, 18, 22, 23 and 29, 2022.
When Are ABIM Scores Released?
Your ABIM results will be released within three months of the last scheduled exam date in your area. After the exam has been taken, it will be evaluated and analyzed to ensure reliable individual results. When exam results are available, you will receive an email with instructions on accessing your results through the ABIM physician portal.
All ABIM exam results will be provided electronically and not through standard mail. Any questions about your exam results need to be submitted in writing within six months after your exam results were provided. All physicians who pass this examination will become certified ABIM diplomats and receive certifications for their achievement.
What Percentage Do You Need to Pass the ABIM?
To pass the ABIM exam, your score must be equal to or exceed the passing score of 366. Overall performance on the ABIM exam is graded on a scale ranging from 200 to 800 points. Anything equal to or over 366 is passing. ABIM uses a rigorous, meticulous scoring process to ensure quality results and verify the accuracy of all exam results. 
Although it is highly unlikely an error occurred during grading, applicants can request a rescoring to reverify their results. While this is available, it is important to note a rescoring likely will not change the outcome of your final scores.
What Is the Internal Medicine Board Exam Format?
The ABIM exam format is comprised of single-best answer questions. These questions feature a brief statement, graph or picture, case history and a list of options. You will choose the answer you think is the most applicable and better than the other provided options from these options. 
While other options may be partially correct, it is up to you to determine the answer that seems more accurate. One of the most important steps to prepare for the ABIM examination is to familiarize yourself with this question and answer format.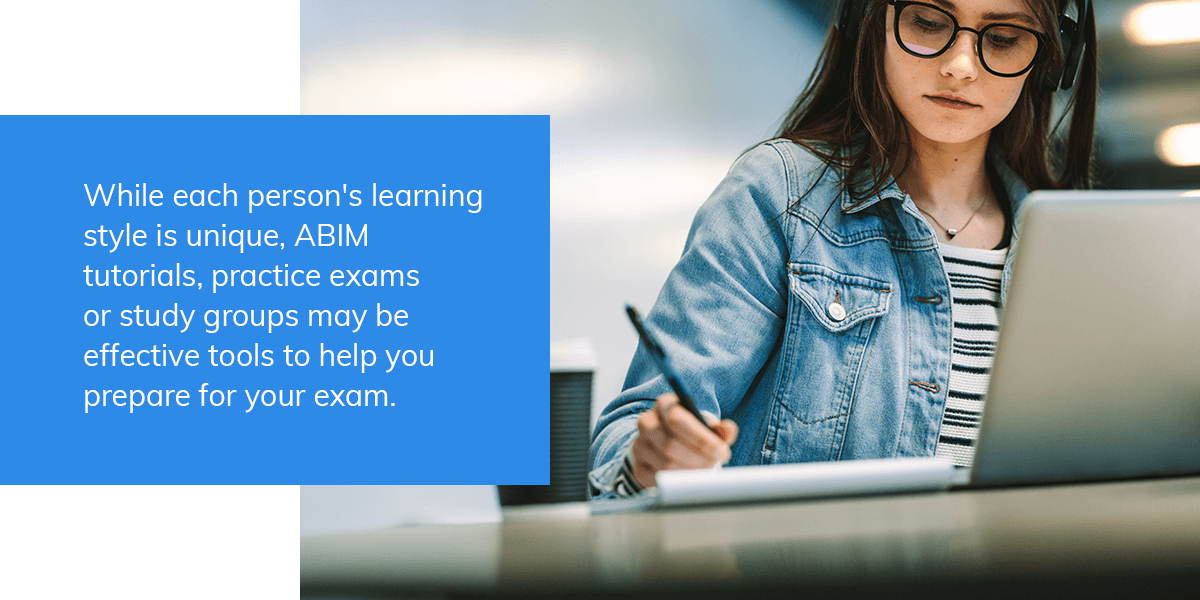 How to Prepare for the Internal Medicine Board Exam
You can register for your ABIM exam in your Physician Portal. This is a critical step in preparing for the exam.
ABIM provides content and format information for all candidates preparing to take their exams. Exam blueprints are available, which provide useful information on the content covered during the exam and how these percentages affect your overall score. Additionally, ABIM practice exams and tutorials offer practice questions to familiarize yourself with the exam and question format.
While ABIM does not endorse or approve exam preparation courses, you may benefit from focused materials, Questions Banks and an organized studying schedule. While each person's learning style is unique, ABIM tutorials, practice exams or study groups may be effective tools to help you prepare for your exam. 
When Should I Start Studying for the Internal Medicine Boards?
In general, it is never too early to start preparing and studying for your ABIM exam. Studying ahead of time can be quite beneficial, and it is important to create a study plan leading up to your exam date to ensure you are up-to-date with the latest information and thoroughly prepared on exam topics. How and what you study also varies depending on what stage you are in your residency and when your examination is scheduled for.  Taking a one-on-one, personalized ABIM tutoring course can be a great way to stay on your individualized schedule and learn in the way that is most effective for you.
Internal Medicine Board Exam ABIM Breakdown
There are several editions of the exam used, which differ in terms of content and question order. Many forms of the ABIM exam feature illustrative materials, including radiographs, electrocardiograms, photomicrographs and more, requiring you to interpret these materials to answer your question. Some of the main topics covered in an ABIM exam include:
Allergy and Immunology
Cardiovascular Disease
Dermatology
Endocrinology
Gastroenterology
Geriatric Syndromes
Hematology
Infectious Disease
Nephrology and Urology
Neurology
Obstetrics and Gynecology
Oncology
Ophthalmology
Otolaryngology and Dental Medicine
Psychiatry
Pulmonary Disease
Rheumatology and Orthopedics
Miscellaneous Topics
What Happens If You Fail an ABIM Certification Exam?
If you fail the ABIM certification exam, you can retake the exam two more times for a total of three attempts. If you fail three attempts of the ABIM exam, you will need to wait one year before registering for the exam again. For example, if a physician fails the ABIM exam in 2018, 2019 and 2020, they can not register for another ABIM exam until 2022.
ABIM Certification Exam vs. Recertification
If you have already passed your ABIM certification exam, you will need to maintain this certification with ABIM's maintenance of certification exam. The maintenance of the certification exam is very similar to the initial certification exam. It is designed to ensure you have stayed up-to-date on the latest information and remember core elements of various medical topics.
While the initial certification exam and maintenance of the certification exam are similar, one difference is the overall length. The initial certification exam takes approximately 10 hours to complete in four two-hour long sessions plus breaks. On the other hand, the maintenance of the certification exam takes approximately eight hours, with three two-hour sessions and breaks.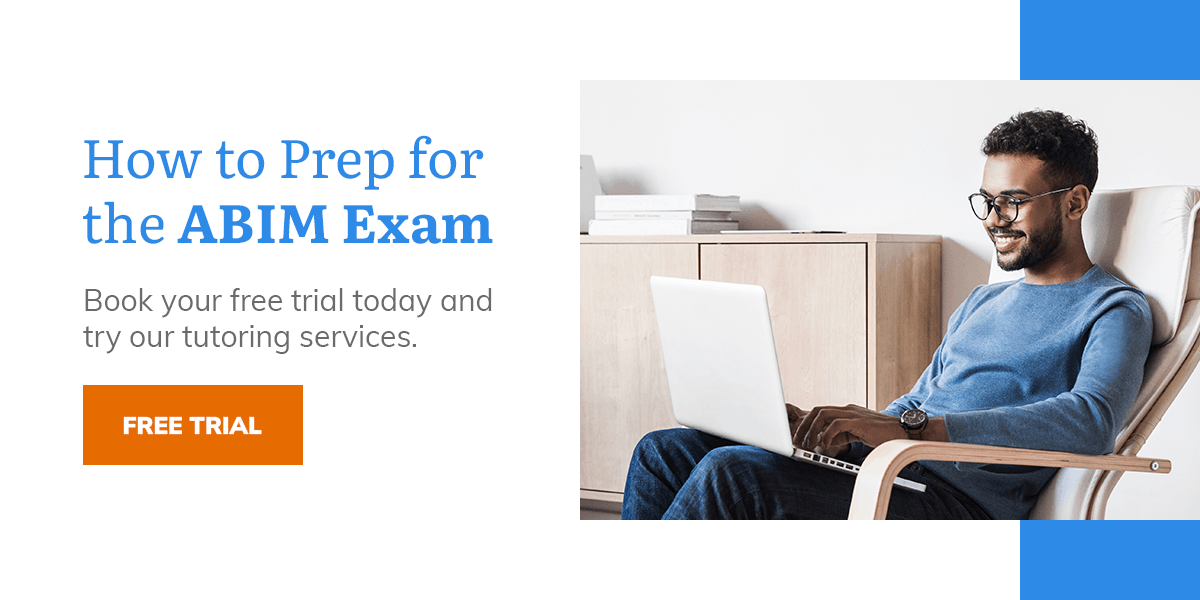 How to Prep for the ABIM Exam
Medlearnity is an elite medical tutoring and consulting company that prides itself on offering the best medical tutoring and consulting services in the industry. Our exceptionally and incredibly talented, accomplished and experienced tutors put the success of our students first. We are proud to offer USMLE tutoring, COMLEX tutoring, shelf exams tutoring, MCAT tutoring and more. Book your free trial today and try our tutoring services.