Third year rotations present unique challenges. While the first two years of medical school are certainly demanding, they are in some ways a more intensive extension of your undergraduate experience: go to class, take notes, study really hard, take exams, and then put it all together to ace USMLE Step 1.
Third year of medical school, though, brings a whole new dimension to the medical school experience.
Your core clerkship rotations demand intensive time commitment – ten to twelve-hour days that require you to always be "on" so can succeed on the wards by showing attendings and residents your knowledge, preparedness, and willingness to learn. By the time you get home, studying for your NBME Shelf Exams is the last thing you want to do.
That's why you need a plan in place for to study for your third year shelf exams. It will be much easier to stick to a schedule and follow a regime if you've already set out exactly what you're going to do for each rotation and its shelf exam ahead of time.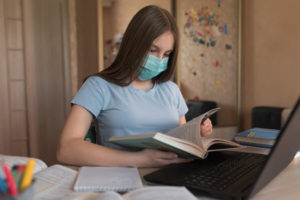 Here are some useful tips and information to help you excel on your NBME Shelf Exams:
What are Shelf Exams?
The NBME Shelf Exams are administered at the end of certain third-year rotations: (1) Internal Medicine, (2) Family Medicine, (3) Neurology, (4) Ob/Gyn, (5) Pediatrics, (6) Psychiatry, and (7) Surgery. The questions on shelf exams are made up of retired USMLE questions that have been "shelved," meaning they are no longer used on USMLE Step 1 and Step 2 CK exams. Many questions that you will see on the shelf exams will be VERY similar to what you saw on Step 1 and what you will see on Step 2 CK.
Each shelf exam has 110 multiple-choice questions, and is 2 hours and 45 minutes long. Every shelf exam is computer-based and is administered using NBME's portal. Depending on the shelf exam, you will either take it at your institution or at a Prometric center.
Why are Shelf Exams Important?
There are two main reasons why your shelf exams are important: (1) Clerkship Grades and (2) Step 2 CK Preparation. Your shelf exam score is used to calculate your grade for each clerkship. Depending on how your medical school determines final grades for each clerkship, how well you do on the shelf exam can have a large impact on your final grade. 
For example, if your medical school does something like 60% clinical performance and 40% shelf exam score, then how well you do on the shelf exam can have a large impact on your final grade. Moreover, your shelf exam performance is the most objective control you have over your final clerkship grade since there are many subjective variables to how attendings and residents evaluate your clinical performance on each rotation.
The more diligently you study for shelf exams, the better off you'll be when you sit down to prepare for Step 2 CK. The material covered during clinical rotations and shelf exam prep is the same material you need to master for Step 2 CK. So the studying that you do for your shelf exams will pay off big time when you start to prep for Step 2 CK.
In fact, shelf exam prep and Step 2 CK prep are so interconnected that we recommend you use UWorld's Step 2 CK question bank throughout clerkship year to prepare for each shelf exam. (For tips on how to do well on Step 2 CK, check out our Comprehensive Step 2 CK Study Guide!). At the end of third year, reset UWorld's question bank so you can use it to study for Step 2 CK.
How to Study for Your Third Year Shelf Exams
How should you study for your third year NBME Shelf Exams? The two most important steps you can take to ensure you are studying effectively for your shelf exams are: (1) create a study schedule and be diligent about studying during each rotation, and (2) decide which resources you're going to use in your NBME Shelf Exam test preparation. 
Your study strategy for shelf exams should generally be – daily reading and practice questions, plus 1-2 NBME practice exams about 1-2 weeks before the shelf exam.
1. Create a Study Schedule
Make a study schedule that will help you stay on track, despite the ups-and-downs that come with rotations. It is totally understandable (and expected) that you're going to be exhausted after spending long hours in the wards. When you finally make it home after a long day, you will be tempted to just change out of your scrubs, eat food and watch Netflix. But you need to avoid falling into this pattern. It will leave you scrambling the last week of your rotation.
Get a calendar and count up how many days you have until the shelf exam. At the start of each rotation, identify the resources you want to use to study and divide the number of pages to read and/or the number of questions to work through by the number of days available for studying. This gives you a structured schedule and a daily goal to work towards. It spaces out the material you need to cover as well as the practice questions you need to complete and review. When the time comes for you to take your shelf exam at the end of each rotation, you will be fully prepared!
When you sit down to map out your study schedule for each shelf exam, be honest with yourself in acknowledging the days you won't be able to study. If you know you'll be attending a family get-together or a friend's birthday celebration, build that into your schedule. This will help ensure that you are creating a schedule that you can actually stick to.
Plan to leave a few days before the shelf exam for dedicated studying. Try to leave the 2-3 days right before the shelf exam for dedicated studying. Use this time to review the material and practice questions you've covered over the past few weeks. 
Take at least one NBME for each rotation. We recommend that you try to take an NBME practice test 1-2 weeks before you take the shelf exam – this will help to put you in test-taking mode, give you more material to review, and identify your topic-area weaknesses.
Make studying a daily habit. Creating a schedule and sticking to a plan will help you avoid last-minute cramming and alleviate unnecessary stress and anxiety. Be diligent – make it a goal to study every day for a set amount of time. Even if you don't have time to hit your goal on a particular day, you should still sit down to study and chip away at your goal as much as you can – even one solid hour of studying is better than no studying at all. Cultivate a daily habit of studying and solidify a routine throughout your clerkship year. 
Your consistency will add up in the long run. Not only will you avoid last-minute cramming, but you will achieve deeper content-mastery because you are giving your brain the space and time to process information over the course of your rotation. Your diligence will pay off big time in both your shelf exam performance and Step 2 CK score.
2. Decide Which Resources to Use
We recommend using UWorld and OnlineMedEd as a resource for every rotation. UWorld's Step 2 CK question bank is the best resource for shelf exam practice questions. Use UWorld for every rotation, and at the end of third year, reset the question bank and use it for Step 2 CK. Make sure to thoroughly review answer explanations – that's where much of the learning happens!
OnlineMedEd videos do an excellent job of breaking down complex concepts, and you can easily access rotation-specific material by searching the Library. Many students find OnlineMedEd videos helpful to use as a primer before they begin their rotation and also as a resource for high-yield review 1-2 weeks before the shelf exam.
AMBOSS is a great tool both for use on the wards and for studying for your exams. It includes a huge database of evidence-based guidelines, along with a question bank containing thousands of exam-like practice questions. What makes AMBOSS a go-to study resource is that everything is connected across the platform, helping to unify and solidify your knowledge base as well as prepare you for exams.
Another great resource is the Divine Intervention podcasts. This is an ongoing series of reviews on high-yield topics, which can help you on your shelf exams as well as USMLE Step 1 and Step 2 CK. You can look through 250+ episodes to find the ones relevant to your current clerkship. The podcast format is especially useful for those extra spaces of time that would otherwise be hard to use for studying, such as your commute time or workout time.
For each rotation, you will need a text-based resource that can serve as your go-to reference. A text resource can supplement practice questions and help you strengthen any subject area weaknesses. Here are some resource recommendations for each rotation:
Medicine
In comparison to the Family Medicine Shelf, the Medicine Shelf places more emphasis on understanding the pathophysiology of conditions that affect different organ systems. The Medicine Shelf will require you to establish a diagnosis and recommend appropriate diagnostic or treatment options.
UWorld Medicine is the best resource to study for the Medicine Shelf Exam. Although it will take several weeks to complete, it's definitely worth it! There are currently over 1400 medicine questions; if you have a typical medicine rotation (8-12 weeks), you should aim to finish all the questions by week 6.
UWorld Medicine is really the gold standard resource here – the amount of content it covers, together with its answer explanations provide a fantastic resource for the Medicine Shelf Exam.
Family Medicine
It can be a little difficult to know how to use UWorld to prepare for the Family Medicine Shelf Exam since Family Medicine covers a broad scope of material. Content-wise, a lot of things are fair game for the Family Medicine Shelf – questions can range from pregnancy to child developmental milestones and puberty, to age-related diseases. 
In comparison to the Medicine Shelf Exam, the Family Medicine Shelf Exam places more emphasis on the course of a person's development, from childhood to adulthood to old age.
As a clerkship scheduling tip, we recommend taking Family Medicine later in the year – especially after Medicine. This way, you will have already seen and studied for the range that Family Medicine can test you on, such as Pediatrics and Ob/Gyn.
Neurology
The Neurology Shelf Exam tests your knowledge of diseases of the nervous system. The content covered on the Neurology Shelf Exam is narrow; it often tests topics such as nerve injuries, head trauma, central nervous system infections, neuromuscular disorders, and degenerative neurologic disorders, among others. 
Ob/Gyn
The Ob/Gyn Shelf Exam tests you on conditions and diseases that affect the female reproductive system across all ages (from childhood to puberty to old age). Questions will cover content such as pregnancy: prenatal management, physiologic changes of pregnancy, and disorders of pregnancy (pre-eclampsia, placenta previa, placental abruption, gestational diabetes); routine health maintenance: annuals, pap smears and breast exams, STIs; and breast, ovarian, vaginal, uterine and cervical conditions. 
Pediatrics
The Pediatrics Shelf Exam tests you on infant, child, and adolescent development. You should expect to see questions on normal infant/child development, developmental milestones, vaccine schedules, puberty, and diseases and conditions unique to the infant, child, and adolescent populations – for example: asthma, congenital infections and heart defects, meningitis, abnormal puberty.
Psychiatry
The Psychiatry Shelf Exam tests your knowledge of the pathophysiology, diagnosis, and treatment of mental and neurologic disorders. You should expect to see questions on personality disorders, mood disorders (depression, mania), anxiety disorders, somatoform disorders, substance-related mental disorders, schizophrenia and other psychoses. The Psychiatry Shelf Exam also focuses on the adverse effects of its medications – you should know the common side effects of every important/commonly prescribed psychiatric drug.
Surgery
The Surgery Shelf Exam is one of the more difficult shelf exams. Importantly, the Surgery Shelf is more medicine heavy – details about actual surgeries and surgical techniques are not on the exam. The focus of the Surgery Shelf Exam is more on diagnosis, the decision-making that goes into offering surgery, post-op management, and the risks/complications of various surgeries. Trauma management is heavily tested. You should know the ABCs and be able to apply them properly.
3. Be Diligent during Clerkship Year, but also Be Flexible
No matter how well you plan out your schedule, there are some things that are just beyond your control. You might need to take care of personal obligations or decide to take the evening off to exercise self-care after a particularly overwhelming day. 
There will be days where it won't be possible to meet the daily goals you've set out for yourself. When that happens, re-tweak and re-calibrate! Try to make up the missed work over the next two days or so. You might even have larger study disruptions, but stay firm and put in the time to re-work your study schedule. Don't fall into a pattern of deviating from your schedule. Instead, build a habit of sticking to your schedule and be flexible in re-working it however necessary to meet your study goals for each rotation.
Would you like some help with planning how to study for your third year shelf exams and beyond?
Best of luck during clerkship year! Don't hesitate to reach out to the Medlearnity Team if you have any questions or need guidance on how to prepare for shelf exams or Step 2 CK. Our tutors are exceptional educators who can help you honor your Shelf Exams and boost your Step 2 CK score.