The United States Medical Licensing Examinations (USMLE) Step 1 exam is your stepping stone to the specialty and residency program you want. UWorld is one of the many resources you can use to prepare for this crucial test. With proper usage, you can bolster your Step 1 study plan and succeed through UWorld question banks and self-assessments.
What Is UWorld?
UWorld is an online learning platform that features thought-provoking questions, thorough explanations and customizable study blocks that will help you with USMLE exam preparation. The frequently updated content ensures you learn and master the most relevant material that helps confront your individual USMLE Step 1 strengths and weaknesses. UWorld may be harder than Step 1, with some questions above the actual test's difficulty level.
Is UWorld Enough to Pass Step 1?
UWorld alone is not enough. You should use UWorld along with these tips to effectively prepare for Step 1:
Combine UWorld with other resources, such as First Aid and NBME self-assessments.
Start with a small question pool at the beginning of each topic to determine which concepts you need to focus on the most.
Focus on mastering the ideas in the QBank rather than getting the correct answers.
As with all study methods, UWorld requires effective usage to yield the best results. Having the right mindset while studying for the USMLE Step 1 and practicing healthy habits will help you get the most out of your studies and establish an effective USMLE study schedule.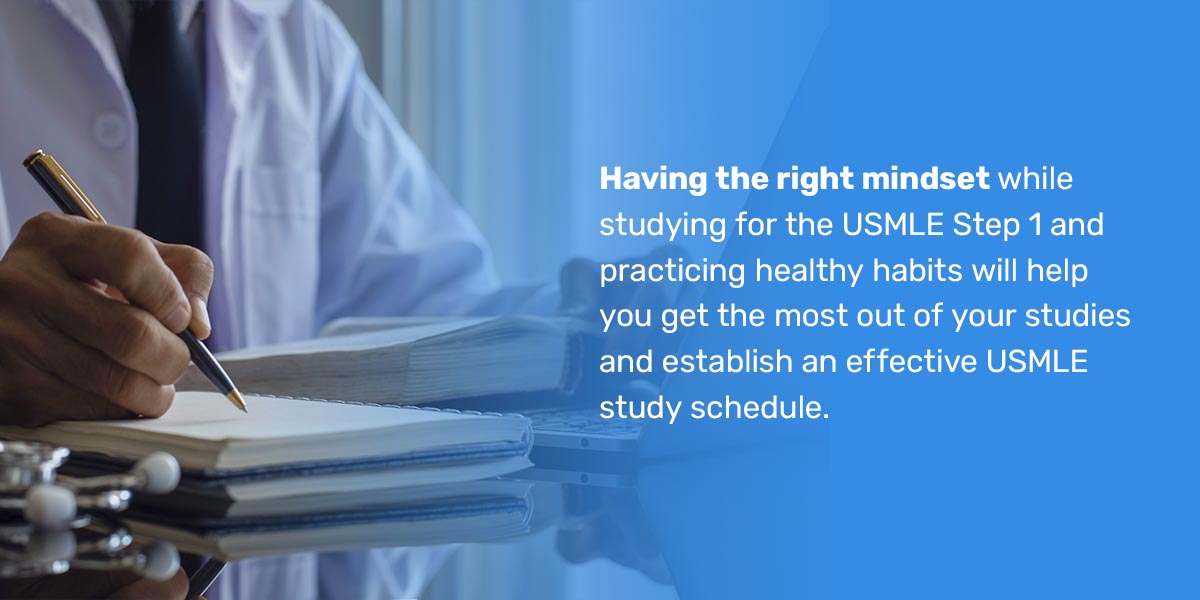 When to Start Studying With UWorld
Remember that studying is a marathon, not a sprint. Proactive students should start during the first year of medical school to ensure they score well on the USMLE Step 1. If you've previously taken Step 1, ensure you have plenty of time to study before your next attempt — a few months is ideal for most test-takers. An early start will help you:
Pace yourself: Adequate study time gives you the chance to master a concept. You can go slowly, review questions you missed and confirm you understand a topic before moving on.
Practice: You can familiarize yourself with Step 1 practice exams so you know what to expect on your test date, how to answer the questions and how long you need to answer them.
Develop a game plan: A structured schedule and organization strategy lets you make the most of each one. Create a daily, weekly and monthly schedule and stick to your designated study hours.
Common Mistakes Students Make With UWorld
Being aware of potential pitfalls ensures you use UWorld correctly and effectively. Common mistakes include:
Completing one pass: You should complete two passes of UWorld before your test date. Start your second pass at the beginning of your chosen study period to ensure you have enough time.
Skimming explanations: UWorld is a valuable resource — take advantage of it! Read every explanation to clarify any misunderstandings and get the most out of every question.
Postponing question blocks: Embracing challenges will help you on Step 1 and future tests. Dive into every block knowing you'll gain new knowledge and be 1% better than you were before.
UWorld Step 1 FAQs
How Long Does It Take to Get Through UWorld Step 1?
The exact amount of time it takes to get through a UWorld pass can depend on your dedicated block of study time, the number of questions within a given topic and the number of days within the topic block. The first pass will likely take longer as you work slowly and don't worry about the question time blocks. The second pass will give you plenty of time to practice this structure.
On timed mode, UWorld has a 90-second timer per question, so students will take no longer than one hour to complete the standard 40-question block. On average, students complete one to three blocks of 40 questions within a day of their dedicated study period, working around one to three hours a day answering questions.
How Many Times Should You Do UWorld Step 1?
UWorld recommends completing two full passes through the UWorld QBank. Do the first pass along with your first- and second-year medical school curriculum and save the second pass for your dedicated period of study for the USMLE.
If you are in a crunch, you can make the most of UWorld's 30-day subscription. Study for your USMLE Step Exam in 30 days or less and boost your exam score!
How Many UWorld Questions Should You Do a Day?
For the first pass, as you encounter a new topic in your classes, see how many topic questions are available on the UWorld QBank. Divide the number of topic questions by the number of days within a topic block to determine how many questions to complete each day.
During the second pass, you'll want to take your dedicated study period into account. To find the number of questions per day, divide the total number of UWorld questions by the number of days within your study period.
How Important Is Your UWorld Score?
UWorld can test your knowledge base and test-taking ability, but this score does not necessarily predict a passing score on the actual exam.
Should I Go Through UWorld Step 1 Twice?
Yes, it's generally recommended for users to complete two full passes of the UWorld Step 1 QBank. However, UWorld also offers a 30-day subscription if you have discovered this service with your exam in 30 days or less. Utilizing any form of UWorld can be beneficial to your overall Step 1 score.
Prep for Step 1 With Medlearnity Today
Every student has different needs. With Medlearnity, you'll have an experienced USMLE Step 1 tutor and customized study sessions to help you learn and improve in a way that's right for you. We have the passion, expertise and study resources to help you succeed on test day. Start your free trial today!