The USMLE Step 1 exam is the most challenging, most important test you will take during your medical career. This test is over all of the information you absorbed in the first two years of medical school, and it takes seven hours to complete. 
If you fail Step 1 USMLE, you must recognize what went wrong and give enough time to correct it. The one factor that can rectify a failed Step 1 is getting a great score on the next attempt. This article will cover the 13 most common reasons for failing the USMLE Step 1, ways to avoid them and resources to prepare for the test.
Common Reasons for Failing USMLE Step 1
Here are some reasons why people fail the USMLE Step 1 every year, leading to repeat test-takers. 
1. Depending on Anki
Anki is a popular notecard tool that can be of great use in your USMLE Step 1 test prep. However, it can also cause problems for you if you depend too highly upon it. If you use Anki as your ultimate study resource, you could experience some issues with the questions on the USMLE exam that ask you to show conceptual applications.  
This issue occurs because Anki, as a notecard study tool, is great for improving your fast recall. The problem is even more severe when you use a pre-made Anki deck because your recall will be dependent on someone else's memorization tendencies. If you do use Anki, your best bet is to make your own notecards and customize your own deck order. 
Raw, factual information is important, but you need to remember that the USMLE exam puts a great emphasis on applied conceptual knowledge regarding the topics you learned about in medical school. Practice concepts with your colleagues to improve your conceptual recall. 
2. Not Taking It Seriously
Some students don't take the USMLE Step 1 exam seriously enough. They'll take shortcuts or think that they've done enough in one area or another. Studying to pass will get you an average grade at best. You might even fail.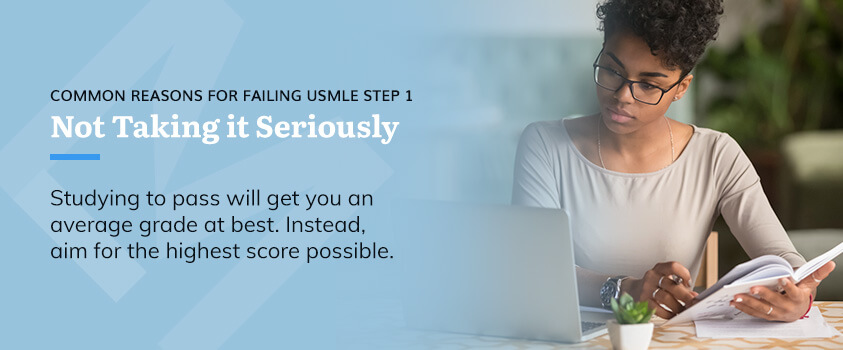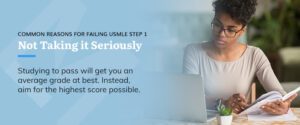 Instead, aim for the highest score possible. That way, you'll push yourself to study and have more motivation. Even if you don't score as high as you aim, you're still bound to get a great score. Aiming higher helps you take your studies more seriously.
Try documenting the work you complete each day. Doing this allows you to look back on your progress. Be honest with yourself, and see if the route you're taking is bringing you closer to your study goals. When you find a solution that works, keep it up. Repetition is the key to building strong factual and conceptual recall for your USMLE exam. 
3. Not Using USMLE Resources
When the test givers provide resources for the test, they should be used. Unfortunately, many students will refer to those who have passed the Step 1 exam already rather than the USMLE resources. It would be best if you used these to prepare. You should build the question banks, NBME exams and USMLE focused materials into your study schedule.
4. Not Practicing Step 1
Reading will only get you so far on any USMLE. Practicing the exam itself will help you learn how long it may take you to answer a question and how you're required to answer each one. It will give you an idea of what to expect when you finally sit for the exam. Otherwise, you'd be going in blind. Students may even fail the USMLE Step 1 because they are unsure of how to answer the questions.
5. Failing to Practice as Though It's Real
Similar to the previous step, students fail the USMLE exam because they don't take the time to practice-answer the questions as if it were the real deal. It's a seven-hour exam, so time management will be critical. 
To build your stamina for your exam date, experience the questions in the same way you will during the exam. Use a timed mode to create a sense of pressure and learn to manage it before the actual stressful experience.
6. Not Using QBank
QBank is one of the provided resources created to prepare you for the Step 1 exam. It has many purposes, including helping you identify your areas of weakness and practice conceptual and memory recall. The questions are designed to test your retention of the study material. It also familiarizes you with the exam itself by showing you its structure. The more questions you take the time to answer on the QBank, the better your score. 
Try using the questions before, during and after all lectures and study sessions. You want to use both USMLE-style vignettes and short one-liner questions in your preparation. Not only will this help your retention, but it will also help to boost your confidence when taking the USLME Step 1 exam because you'll know that you've been able to answer questions correctly. Be sure to use this valuable resource to the best of your ability. 
7. Failing to Set an Exam Date
Setting an exam date gives you a deadline, which, in turn, makes your studying a priority. You'll need to prep for the exam and having a fixed date lets you create a strict study schedule to stick with. Once you choose a date, do not change it. Maximize the time you have. Create that sense of urgency that will motivate you. The only reason to change your date will be if your NBME exams tell you that you need more time. 
8. Not Creating a Study Schedule
It can be hazardous not to have a study schedule. It's easy to push things off until later if you don't put specific times aside to manage them. Exam prep should be your main priority.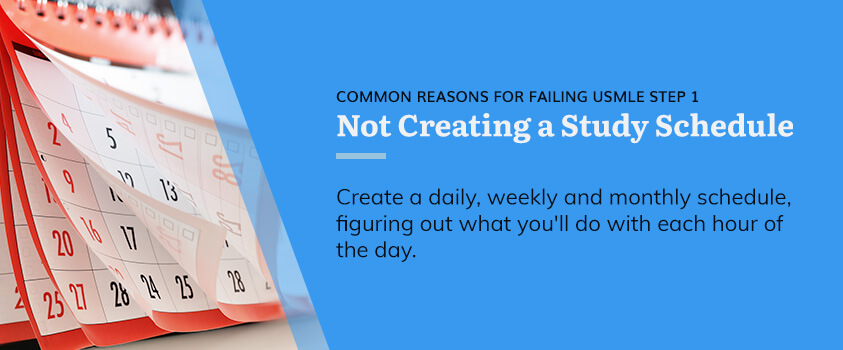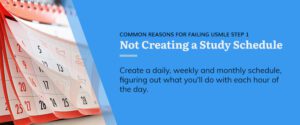 Designate study hours to your day and stick with it. Create a daily, weekly and monthly schedule, figuring out what you'll do with each hour of the day. It can seem excessive, but it will make it easier to get through the massive amount of information. Without a schedule, the task will seem daunting and easy to push off out of stress.
9. Not Using NBME Self-Assessment Exams
Without using the NBME self-assessment exams, you risk forgetting what you've studied if you study longer than necessary. Use this resource to track your study progress. They will give you a decently accurate idea of your actual Step 1 score. 
You should take an NBME exam at the beginning of your studying period to know where you are, then about every one to four weeks, depending on your study schedule and the amount of time you dedicate. When you get the desired results from NBME self-tests, you're ready for the USMLE Step 1 exam.
10. Taking Advice From Other Students
It's natural to go to the older students who have already passed their exams for advice, but this is one of the most common reasons students fail their USMLE. Everyone has different learning styles and masters material in different ways. For example, if you learn best through lectures, students telling you to bury yourself in numerous study guides won't be beneficial. Three things that you should utilize in your Step 1 studying are:
Focused materials

A question bank

NBME exams
If you're the kind of person who prefers advice and guidance over creating your own study schedules and materials, look into resources that offer tutoring and consulting.
11. Cramming
The USMLE Step 1 is a marathon, not a sprint. Ideally, it would help if you begin studying during the first day of classes in your first year of medical school. By the time you're halfway through your pre-clinical time, you should be studying already. 
Students who try to cram often give themselves a shorter amount of study time, setting them up for failure. If you've already failed the USMLE Step 1, recognize that you need plenty of time to study before your next attempt.
12. Using Too Many Different Resources
It's common for students who fail to try to use every single Step 1 resource available. The level of understanding required for the USMLE is challenging to achieve and will require dedication and plenty of hard work. For example, using flashcards is a great study resource, but creating too many makes it useless. It is a stressful process, but don't overdo your resources.
13. Studying for a Longer Time Than Necessary
It is possible to study more than necessary, and it could cause you to fail or receive a low score. A few months is the ideal time frame for most students to study for the USMLE Step 1. Once you've worked through your study schedule, take a post-preparation NBME exam. If you get the results you need, take the exam. If you continue to study once you're adequately prepared, you run the risk of forgetting information.
Utilize Medlearnity's USMLE Resources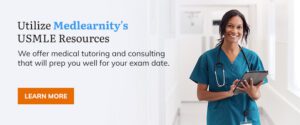 For over eight years, Medlearnity has helped hundreds of aspiring doctors achieve their goals on exams and admissions, including the USMLE. We offer medical tutoring and consulting that will prep you well for your exam date. On our website, you can meet some of our tutors who scored 260 and up on the USMLE. We can create a personal study schedule based on your needs to maximize your learning gains. 
Want to learn more about us? Read some of the testimonials from the hundreds of students we've helped. If you're prepping for the USMLE Step 1, utilize Medlearnity and our resources!